Received another review for Werewolf Club Rules from the wonderful PoetryZone where students can upload their poems!
"The joy of this collection is the author's ability to paint pictures with words…"
http://poetryzone.co.uk/tuc-reviews/
This follows hot on the heels of two other reviews here…

"Young readers are already familiar with stars such as McGough, Rosen, Ahlberg and Magee. Let us hope they will become as familiar with Joseph Coelho's work"
http://booksforkeeps.co.uk/issue/207/childrens-books/reviews/werewolf-club-rules
"I can envisage his books becoming firm favourites alongside those of Michael Rosen, Kit Wright, Roger McGough, John Agard and Allan Ahlberg."
http://jillrbennett.wordpress.com/2014/08/29/poetry-potpourri/
Werewolves spotted in Brent Libraries
I completed two library sessions today in Brent the first session was with year 3 my favourite line from a student was…
"My lion danced on my mum's table!"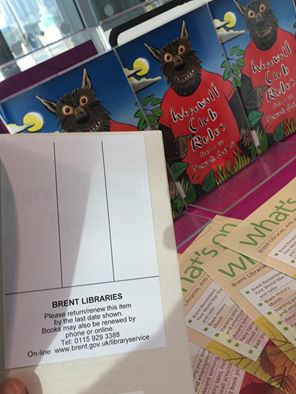 During my second library session i received a great question from a year 4 student…
"If you're famous why are you in a library?"
Note post poetry reading hair!